As part of our ReBurberry commitment, we are making changes throughout our company to actively address the challenges facing our industry and our planet.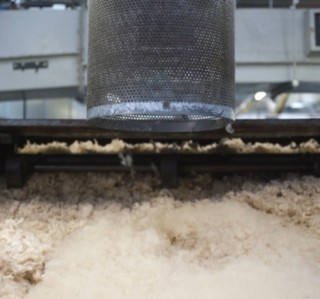 Our Footprint
We currently source 68 per cent of the electricity consumed at our offices, stores, warehouses and internal manufacturing from renewable sources. As part of our aim to become carbon neutral, we have committed to increasing this to 100 per cent in our own operations by 2022. Our Regeneration Fund supports carbon offsetting and insetting projects in our supply chain. These projects will work to support nature-based solutions that reduce greenhouse gas emissions and store carbon.
New Approaches to Waste
We are re-evaluating waste throughout our supply chain. Excess fabric created during product development is donated to Italian brand Progetto Quid – a women-led, non-profit fashion cooperative providing employment opportunities to disadvantaged people. We also donate a portion of our leather offcuts to British brand Elvis & Kresse, who use them to craft luxury homeware and accessories.
Our Packaging
We have redesigned Burberry packaging to reflect our sustainability goals. Our new signature oak paper is made from a minimum of 40 per cent upcycled coffee cups that would otherwise have gone to landfill. It is fully recyclable and certified by the Forest Stewardship Council (FSC). Our products are transported on recyclable hangers and in garment bags made from 100 per cent recycled polyester.
Eliminating unnecessary single-use plastic packaging is a priority for us, which is why we have signed up to the 2025 New Plastics Economy Global Commitment.